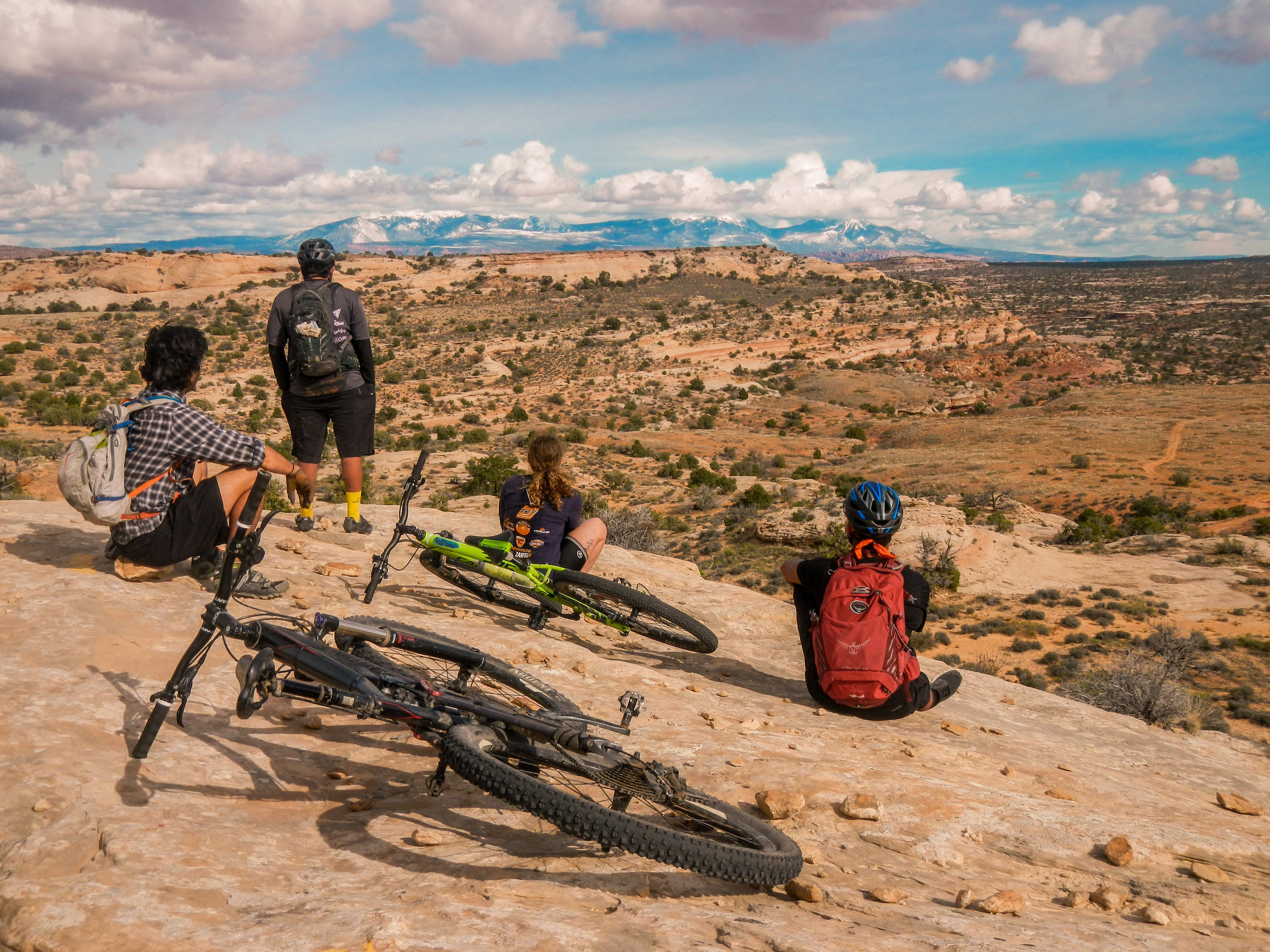 Outreach Coordinator
My journey in life really took a turn in June of 2014 when I got sober. I was given a chance to start my life over, which sounds great and it really was! The only problem was that I didn't know how to live my life fully. I was afraid to make mistakes, I was uncomfortable being myself, and I had no clue how to change that. Well, not too long after I got sober, the Adventure learning Program found me. In ALP, I was able to do something I was good at and that I enjoyed. I began to make more friends through biking, climbing, and hiking and I have tons of memories I'll never forget! More importantly, I was able to take a deeper look at myself and realize what was really holding me back in my life. In 2017, I began working for ALP. I lead bike rides, facilitate indoor climbing, run. Friday Fitness workouts, and assist in leading overnight trips. Today, I don't worry as much about the future and worry about what my life might be like, because my today is so amazing! I am so grateful that I get to hang out and build relationships with young people who are just like I was, and give them the same opportunity to turn their lives around through wilderness activities.
Outreach Coordinator
Hey guys! My name is Paulie, I love the outdoors. The things I have been able to do through ALP have been such a blessing and beyond fun.
When I came to the program, I was broken I did not know how to have fun in recovery. Scott and ALP showed me that I could not only have fun in recovery, but I would be able to work in recovery doing what I love to do.
My first experience was way back riding with a few of the guys on Sundays with scott. These Sundays turned into wilderness trips and eventually the Leadership course.
I have been working in recovery for over 2 years now and switching directions from the more clinical side to the fun and adventure side. See you on the trails!!!
Outreach Coordinator
Hello, my name is Jesse Nutter. I was born and raised in the beautiful state of California, and moved to Houston when I was 13. My favorite things to do are rock climb, mountain bike, chef it up in the kitchen, and watch movies. I also enjoy traveling and exploring new places (mostly for the food). My favorite genre of music is 90s hip hop (Tupac over Biggie without question). My goal is to become a professional chef and maybe own my own restaurant in the future.
I started working for ALP in the latter part of 2018 and it has been awesome to work with the clients and show them some of my favorite activities as well as see them start to have breakthroughs in their lives. ALP has made a huge impact in my life and I am so excited to be involved with this amazing program.
Program Development
Lily is ALP's in-house yoga teacher whom also happens to be a Licensed Chemical Dependency Counselor. At the start of her counseling career, Lily found peace and serenity through the practice of Yoga.
The deeper she got into her yoga practice the more she fell in love with the physical meditation, deep inquiry, and principle-based teachings of yoga. Lily knew she had a deep calling to share this passion for yoga with others. She has discovered that only after 45-60 minutes of movement, breath, focus and intention something magical happens to people on their yoga mat and in the outdoors.
She has developed content for the Adventure Learning Program's wilderness trips, weekend yoga retreats for young women in recovery as well as day long intensives to set intentions and cultivate team building for therapeutic wilderness adventure trips.
In 2016, she pursued a 300 hour yoga teacher training to widen her skills as a yoga teacher and to incorporate into her counseling practice as a therapeutic tool for recovery.
Director of Logistics
I love adventure and the outdoors, and I love helping adolescents and young adults awaken to the thrills and challenges of outdoor adventure. In my youth I enjoyed camping, hiking, biking, fishing, canoeing and stargazing with family and friends in and around New York, Pennsylvania and Ontario, Canada. Later, at college in Utah, the mountains, the desert, skiing and whitewater became my new personal challenges. When mountain biking emerged in the '80s I enjoyed riding in California, Texas and the Carolinas for several years. Career and family came next, and when my sons were old enough to enjoy these activities with me, outdoor adventures provided our best times together and my fondest memories.
Adventure Learning Program re-ignited many of these old passions, especially for mountain biking. Now I am privileged to lead some of our mountain bike rides, help plan and manage logistics for our extended expeditions, repair bikes that frequently suffer from the enthusiasm of our young riders and generally help the Program when help is needed. But the best part of all of this is getting to witness - and perhaps in some small way, influence - the recovery and growth of our young participants as they apply lessons learned in the real, remote, wild world to their lives, their relationships with friends and family, and eventually their careers, marriages and children. I often say that I'm just in it for the fun, but I am truly grateful for the opportunity to be part of so many positive, life-changing experiences. Including my own!